Carbon Brush for Power Tools
Long Life Brush for Power Tool
Carbon Brushes are fundamental components for the power tools, such as drills, angle-grinders and disc-grinders which are used at various occasions at construction site.
For such a particular application as power tools with cruel condition like construction site, such a carbon brush grade is required that has low brush wear and will not damage commutator surface.
We produce carbon brush which can fulfill this particular requirement and widely obtained favorable reputation from many customers in domestic and abroad.
---
Cut-Off brush
Brush spring pressure will be fall down suddenly when brush is worn out.
It will make commutation worse, and may cause damage comutator problem.
We are making Cut-Off brush. It will shut down the current immediately when brush is worn out and protect comutator surface.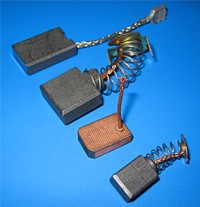 ---